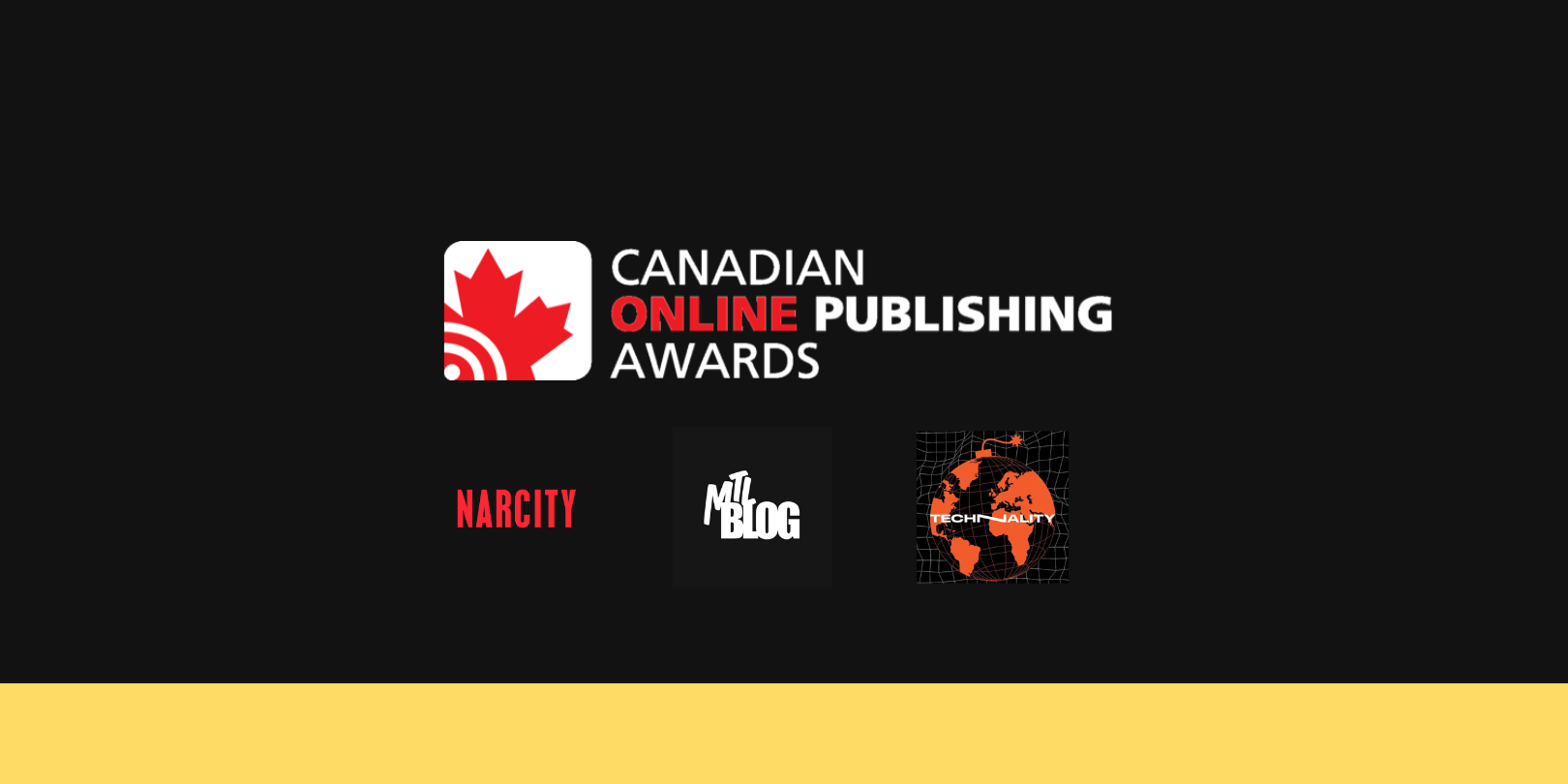 Narcity Media Group Wins Big at 2022 Canadian Online Publishing Awards
FOR IMMEDIATE RELEASE:
Toronto, Ontario - Narcity Media Group is proud to announce that it has won three awards and has been named as a finalist in three categories at the Canadian Online Publishing Awards 2022. The awards celebrate excellence in online journalism, digital content, and publishing across Canada.
Narcity Media Group won Gold for Best News/Sports Site for Narcity.com and MTLBlog.com, led by Alison Millington, Editor-in-Chief.
Additionally, we received Gold for Best Video Content for Technality, a brand exploring all things future, technology, and humanity, created by Host and Producer Jacqueline Swan, Associate Producers Prisillia Dalcourt-Villavicencio and Andrew Melki, and Owen Leitch, Executive Producer.
Narcity Media Group also received Silver for Best Video Content for its Live Coverage of The Freedom Convoy in Toronto, produced by Senior Producer Jackie Vandinther, Reporter Ashna Bharkhada, Video Journalist Lance McMillan, Social Manager Aidan Miller, and Max Rosenberg, Social Director.
"We are thrilled to have been recognized at the Canadian Online Publishing Awards and to be acknowledged for producing innovative and engaging content. Our team is committed to creating content that resonates with our audience and this helps validate the awesome work our team is doing on a regular basis." said Narcity Media Group CEO, Chuck Lapointe.
The Canadian Online Publishing Awards is an annual event that honours the best in digital publishing across Canada. It recognizes outstanding achievements in editorial content, design, user experience, marketing, and more. The awards are judged by a panel of experts in the digital publishing industry.
In addition to the awards, Narcity Media Group was a finalist in the Best Blog Column/Videocast/Podcast - Media category for Cheaper Than Therapy, created by Brooke Houghton, Multimedia Reporter, and Samantha Peksa, Managing Editor. It was also named a finalist in the Best Local Community News/Sports - Media category for 10 Montreal Streets Will Close To Cars This Summer — Could It Add Years To Your Life?, written by Eric Dicaire, Contributing Writer for MTL Blog, and John MacFarlane, Deputy Editor. Finally, Narcity Media Group was a finalist in the Best Podcast - Media category for Technality.
For more information, please contact:
Amanda Song
Associate Director, Marketing
Narcity Media Group
About Narcity Media Group:
Narcity Media Group is a leading digital media company in Canada, providing engaging content and resources for local communities. With a focus on cities and the people who live in them, Narcity Media Group connects audiences with their local communities and delivers the stories and experiences that matter most to them.